Meet Magda, Live in Carer
"It gives me a good feeling if I am able to make just a small difference in people's lives –  helping them enjoy their life as much as they can"
Meet Magda,
Magda has been working for Novus Care as a Live in Carer for over 6 years. She lives in Serbia with her family in a small town called Ztenjanin near a beautiful lake where she often goes swimming during the summer and in winter you can find her walking there with two of her beloved dogs. She loves spending time with her family and friends and enjoys cooking and having dinner parties at home. She is very interested in gardening and plants and also grows her own vegetables.  In her spare time she likes going to the cinema and  the theatre and loves visiting London where she goes to all the museums and parks.
Describe a typical day as a Live in Carer
As a live in carer my responsibility is to be there around the clock and give support, personal care, fulfilling all daily tasks for my clients needs.  I prepare all the meals, do the food shopping, housework, take her to doctors appointments and I'm also there to keep her company. I also have regular training and communicate with the office staff on a regular basis.
Why did you choose a career in care?
I chose to be a live in carer as I love working with people, it gives me a good feeling if I am able to help or make just a small difference in people's lives – helping them enjoy their life as much as they can living independently in their own home.
I have been supporting a lady with dementia for six years. At the beginning, she could communicate quite well but gradually her condition deteriorated and I experienced all the different stages of dementia. We built up such a strong bond between each other during my six years of being next to her and if she was not able to communicate I could tell what her preferences were in her routines and diet.
What's the most rewarding part of being a live in carer?
The most rewarding part of being a live in carer is the appreciation and the positive feedback I get from my clients and their families. I also learn a lot while I work as a live-in carer as I'm working with all people from a variety of backgrounds living with different medical conditions.
What's the hardest part of being a live in carer?
The hardest part of my role would be dealing with clients falls or accidents. I do not like it when these things happen whilst I am on a placement.
Would you recommend Novus Care as an employer of choice?
I would certainly recommend Novus Care as an employee, as this company is offering the highest standards in care, they support you and give the opportunity to develop your skills and value your hard work and commitment.
What would you say to someone who are considering a career in care?
To be a live in carer, you need to be a person who is patient, calm and caring. If  you can easily communicate with people you will find this job enjoyable.
————————————————————————————————————————————————————-
Meet Erna, Community Carer
"Working as a carer is an extremely rewarding job that makes a real difference to people's lives"
Erna, is an experienced care professional who is passionate about giving good care. She loves Art, needlework, gardening and mountain biking. However, it was her love of working with the elderly and passion for travel that saw her move to the UK. Having worked a senior care assistant overseas for a number of years, she came across the carer job from Novus Care on a recruitment site and the role ticked all of the right boxes.
Describe a typical day as a Community Carer
As a Carer, no two days are ever the same! I visit people in their own home and help with various duties which include helping them get up in the morning, washing and dressing and sometimes personal care. Some people want me to help with the household chores or even just help them prepare their breakfast, lunch or dinner.
What is the most rewarding part of being a carer?
It's knowing that you are helping them to live independently. I find being a carer really uplifting and gives meaning to someone's life every single day. I also hope that I bring cheery company and conversation to someone who is living alone.
What is the hardest part of being a Carer?
When you lose someone that you have been caring for – that is the hardest part
What qualities do you think makes a good carer?
You must naturally love helping people and be passionate about making a difference to the lives of people who need your support
What would you say to someone who is considering being a carer for Novus Carer
That care is from the heart, it's passion and responsibility. Novus Care are an extremely professional care agency and are always there to support you every step of the way.
————————————————————————————————————————————————————
Meet Damian, Finance Manager
"Working in care is not about money, it is about the opportunity to help people in need"
Meet Damian, Damian is originally from Romania where he worked for a furniture import and export business, managing all their invoicing and accounts. In 2013, he wanted a new challenge and made a life affirming decision to move to the UK to work as carer. Damian quickly rose through the ranks at Novus Care and has worked as a Senior Carer, Care Co-ordinator, Finance Officer and early this year was promoted to Finance Manager. Away from the office and to recharge his batteries, Damian loves carp fishing which he has enjoyed since childhood. Another hobby he has picked up since moving to the UK is cycling with friends.
Describe a typical day as a Finance Manager
As a Finance Manager, I oversee any financial related requirements for the company. This includes managing and processing invoices and payroll, transaction recording within SAGE, producing weekly/monthly reports for the Directors and training staff in other offices in payroll and invoicing processes. I also order stationary and PPE for our offices, ensuring optimal prices are obtained.
Why did you choose a finance career in the care industry?
Taking care of people is something that I have enjoyed since I was child, no matter who that person was (a relative or just a stranger). Knowing that I can help a person, to see someone's joy on their face and a smile is the most priceless reward that you can receive.
What do you love about your job?
I can't choose the best part as I really do love every part of my job! However, the best part are the challenges and the opportunity to share my knowledge and experience with my colleagues.
Would you recommend Novus Care as an employer of choice?
Yes, I would. Novus Care is like a big family where we all take care of each other. From my experience I can say that every time I was in need, someone from Novus Care was there to listen and offer help.
What would you say to someone who is considering a career in care?
If you are a compassionate person and you like to take care of someone and the reward that you are looking for is a smile from that person and the joy to know that you are helping them, then you should work in care. Working in care is not about money, it is about having the opportunity to help people in need.
Arrange home care for a loved one
We understand choosing to have care delivered in your own home can be a daunting task and that's why we are here to guide you through the process, every step of the way.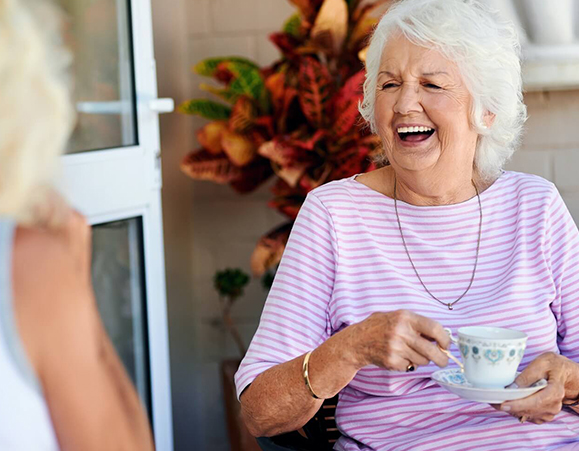 Care you can trust
We are committed to investing in systems, training and procedures to ensure that we are able to deliver a superior level of service which is timely and reliable.
In addition to first class carers we have a strong home care management team in place which is dedicated to ensuring that all of our clients and their families are happy with the service being provided.
Schedule a free assessment
Get in touch to speak with our care team about your ideal care plan.