Looking for Dementia care at home?
If you are looking for dementia care at home then our professional care agency can help. We can provide dementia care at home from only 30 minutes per week to 24/7 live in care in every town and village across England.
At Novus Care, we understand caring for someone living with dementia can be difficult for not only the person who has dementia but particularly hard for those close to them. The number of people living with dementia is steadily increasing and when someone with dementia is faced with the difficult reality that their mental capabilities are steadily declining, they often require support and reassurance to deal with the daily challenges of living with dementia.
Our dementia carers receive specialist dementia care training and they are committed to working with clients and their loved ones to ensure that their care needs are being met – whilst retaining their sense of identity and protecting their dignity and independence –  all in the comfort of their own home.
How can our Dementia care at home services help?
Our dementia care at home services enable you or a relative to have the care and support they need to carry on living in their own home. In the early stages of dementia, many people living with dementia are able to enjoy living life the same way as before their dementia diagnosis.
But as symptoms deteriorate, the person may feel anxious about not being able to remember things, follow conversations or have poor concentration. At Novus Care we understand how important it is to support the person to continue living independently and helping how they feel about themselves – which is how our dementia carers can help.
Dementia care at home
Our dementia care at home service starts with visits from just 30 minutes per week. Our dementia carers can visit your loved one first thing in the morning to help them get up dressed and help with personal care, breakfast and administer any medication. As symptoms get steadily worse and they progress through the different stages of dementia, your loved one may need increased support at home or during the evening.
As our dementia care at home service is completely flexible, visits can increase as and when required and our dementia live-in care service can even provide around the clock care and support. Our dementia carers can even be there during the night as we understand those living with dementia may get up repeatedly during the night and feel disorientated when they do so. Families have peace of mind that their loved ones are safe during the night with the help and support of one of our dementia carers.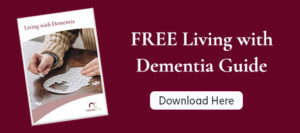 Looking for high quality dementia care at home?
We're here to help.  For an informal chat about our dementia care at home service or to book your FREE home care assessment today by calling  0800 138 4030 or email: [email protected] to discuss your requirements.
FAQs about caring for someone with Dementia
They keep saying "I want to go home"
Often this does not mean the person wants to go to a house in which he or she once lived. What it may mean is that the person wants to feel comfortable and safe, as was the case in the past. EXAMPLE: Do not say "You are never going home." This might cause the person to feel that he or she will never feel comfortable or safe again. Instead, reassure them that they are in a safe place and try diverting the conversation
They say "Help me" and are not specific?
Do not ask the person "What is wrong?" or "What do you want?" as this may only increase distress if the person cannot elaborate. Instead, ask a few questions that call for short answers. This may calm them. EXAMPLE: "Are you warm enough?" or "Do you need help to get to the bathroom?". Or "Do you have any pain?" As you leave, reassure that you will see the person soon. Tell them you care about them.
Who are you and why are you here?
Sit down at eye level, low voice and identify yourself and provide reassurance. Change the subject by offering a cup of tea.
They say their deceased husband visited that day?
They may simply be expressing a wish. Another possibility is they are thinking about the possibility of dying and thinking about loved ones who have died. Finally, they may have forgotten that their husband has died. At times, the memory of their husband alive may be stronger than the memory that he has died. EXAMPLE: In any event, do not tell them that he is dead and can never visit. This may only cause shock and grief, as if they were hearing the news for the first time. If she asks "Where is my husband"? say "I haven't seen him" or try "It would be nice to see him" or "How wonderful to have a long, happy marriage" These comments will be more positive and comforting.
How should we communicate if the person has short term memory loss?
If the person has short term memory loss, give frequent cues and reminders, especially as to time and place. Try talking about events from long ago. Some people are most comfortable talking about when they were raising a family or the work they once did. EXAMPLE: Say "We had a nice lunch earlier, and soon it will be time for dinner". Ask about a place where the person once lived or a job the person held some time ago.
Is it safe for them to leave the house?
You should always try to find a way that lets them leave the house safely. If there are no neighbours or family members available then you can hire local carers to help them take a walk safely. You can also get help through a local service, group or organisation that helps people with Dementia to take part in activities, including walking.
Why won't they eat the food I have prepared for them?
Refusing meals and lack of appetite is extremely common. If they refuse food, then don't be afraid to try again later in the day. Try and cook meals that you know they like and choose food that is easily identifiable and use different flavours to stimulate their tastebuds.
How can I keep them in their routine?
In the early stages of Dementia, daily routines help people add a sense of order to their days and provides a sense of security -something that becomes even more important as they lose awareness of time. Establishing a daily routine, creates an environment where routines are more predictable and the person with Dementia is less agitated. Example: Display a weekly planner which includes doctor's appointments, family visits and even prompts the person to shower, dress and eat.
How can I make their home Dementia friendly?
Ensure lighting in their home is bright and as natural as possible and remove rugs and mats as these could lead to trips and falls. Mirrors can be confusing as they can misinterpret what they are seeing in their reflection, we would advise removing all mirrors and reflective surfaces where possible. Examples of dementia friendly items: • Clocks with large LCD displays showing the day, date and time • Telephones with big buttons • Ensure tables are stable and at a suitable height and have smooth edges.
How can I ensure they get a good night's sleep?
A person with dementia may experience a disruptive sleep cycle. Therefore, it's important to ensure they are stimulated during the day and avoid naps as much as possible. Research has found those who participated in 1-2 hours of social activity per day improved their sleep at night. Example: Have a set routine, so they go out for a walk mid morning or play a game in the afternoon. This will provide a familiar routine that helps the person make sense of the time. Ensure an hour before bedtime, they have a set routine, where they use the toilet, wash and brush their teeth, get changed for bed and have a warm caffeine-free drink.
How can I stop them wandering at night?
The Alzheimer's Association tells us that 60% of people who live with Dementia and Alzheimer's disease will wander about. One of the main triggers is looking for a bathroom and may open the wrong door and end up in the wrong room. Another trigger is poor sleep habits. If they are waking up at odd times during the night, you should examine the daytime routine and try and provide more stimulating activities during the day and avoid any unnecessary napping. They may be too hot or too cold. Adjust the temperature and ensure sleepwear and bedding is season-appropriate. Being hungry is another reason they could be wandering. Ensure their bedtime routine includes a light snack.
What should I do if they won't let me help with their personal care needs?
Those living with Dementia will still experience emotions and feel embarrassed, therefore it's important to stop if they become distressed. Encourage them to do as much as they can for themselves as this will help them feel capable and independent. Elderly people may associate washing with a tin bath and a bar of soap so ensure you explore different ways, perhaps washing at the same time to make them feel less self-conscious or even massaging their hands in warm water.
How can I encourage them to use the toilet?
Dementia affects vision, so if they are refusing to use the toilet, it may be simply that they cannot locate it as they can't differentiate between the white toilet seat and the white floor. Try changing the toilet seat to another colour and always enter the bathroom first, as this will encourage loved ones to follow.
How can I explain Dementia to my child?
Children want adults to be completely open about a dementia diagnosis, so be honest in an age-appropriate way. Children naturally pick up things quickly and although you may be trying to protect your child from what's happening to a relative, they may actually worry more. It's better to be open, and answer their questions as they arise.
"I need extra help as I am struggling to cope with someone who has Dementia"
First of all, contact your local authority and find out what help and support you'll need as all care and support assessments are free of charge. Your local Age UK and the Alzheimer's Society also have a wealth of information about local helplines, groups and services You can also contact local care agencies such as Novus Care who can help give you a break and are able to pop in to help regularly and also provide respite breaks and around the clock live in care.
Get In Touch
Benefits of dementia care at home
When you choose dementia care at home, care can be provided in your home from just 30 minutes per week to 24 hours a day, 7 days a week. But what are the benefits of Dementia care at home?