Care at home services provide more than the basic needs of support. For an elderly person to know someone cares and is there to offer encouragement goes a long way to giving that person a purpose in life.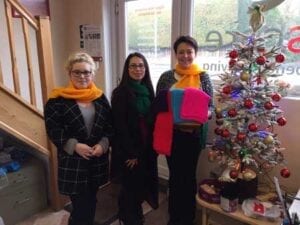 The positive impact creativity can have on a person's quality of life is well documented. Any home care worker who recognises the value of creativity and is able to get a client involved in at least one form of work with their hands should be recognised for their efforts. Novus Care Cranleigh are one such team who need applauding for the outstanding service they have provided by encouraging one of their client's to knit scarves to sell and donate the money to charity.
Here is a photograph of our team at the Cranleigh office getting ready for Christmas. The team each bought one of the hand knitted scarves to keep them snug on a cold winters day when off to provide home care services in Cranleigh.