The Hertfordshire Care Awards ceremony was held on Friday 25th November to acknowledge those dedicated to the contribution they make to care services. We are delighted to announce that one of Novus Care staff – Claire Kipps – was shortlisted for 'The Care Newcomer Award'. Claire was one of 3 short-listed for the whole of Hertfordshire. The criteria for the award goes to those new to care, is enthusiastic about working in the care sector and valued by the team, is learning well on-the-job and aspires to improve and grow, has developed strong professional relationships with the people they are supporting and has already proved to be making a difference.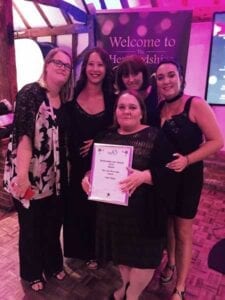 Reward and recognition vital in support of a care workers career
Home care services are being delivered in an increasingly challenging environment where providers are expected to 'do more with less'. People who use home care services and their families have increasing expectations about service quality and care worker skills.
The  job of care workers is also becoming more complex, with older people having differing support needs living longer in the community. However, despite its demanding and often complex nature, care workers don't earn the job status that they justly deserve. The extent to which care workers feel their job is valued is influenced by general social perceptions of care work. On going training, skills development, career progression, acknowledging work well done and professional esteem are proven to go along way in improving care workers sense of value. Acknowledging the skills and accolades achieved by care workers across many media sources will also go towards raising awareness of the huge positive contribution these people are making to society.
Well done Claire from all of us at Novus Care! We hope you will continue to aspire to improve and grow in your career as an enthusiastic care worker.