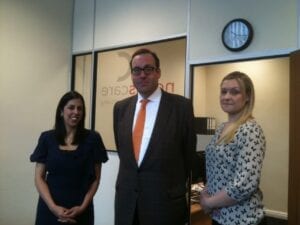 Watford's MP Richard Harrington paid a visit to homecare agency Novus Care Limited. The visit gave the MP the chance to discuss a number of issues surrounding the provision on homecare and to meet with the director of the company and the registered manager of the Watford office to discuss the services being offered.
Richard was impressed by the company's work ethos and his opinion was that Novus was providing a much needed service.  He offered positive and encouraging words with regards to supporting elderly people in the area. He was also very enthusiastic about the potential for job creation within the local area.
Kelly Kerner, the registered manager of the office, added "We are delighted that Richard Harrington was able to visit us, we are very proud of what we stand for and view ourselves to be a valuable resource for members of the community".
Novus care provides personal homecare services for vulnerable adults and strives to enhance the quality of life of vulnerable adults by enabling service users to lead as independent a life as possible in their own homes.
Novus Care's services include: personal care, domestic care, companionship, care for mentally of physically disabled people, medication administration, errands, respite support, palliative care, post surgical and hospital admittance, live in care.