At Novus Care, we always strive to provide the highest quality care and we very often hear about inspirational individuals and teams who have gone above the call of duty to deliver that care. The difference our Carers make to the lives of our clients deserves recognition and one way that we do this is through our carer of the month program. It's a wonderful opportunity to thank you and to encourage each and every one of our members of staff to reach their full potential so that together we can achieve the very best care possible.
We are so very proud of all our staff and in MAY, we are delighted to announce the following members of staff have been awarded our carers of the month;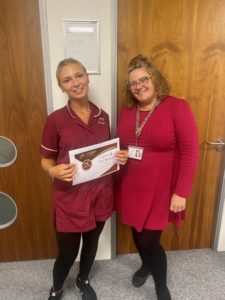 Congratulations Alice
We are delighted to announce Alice has received Wickford's carer of the month as she is a very reliable carer and is a real team player who will always helps out where she can. Although Alice is very busy carer, she still finds the time to help out when her local branch needs her to.
Alice has excellent communication skills and will always contact the office with any issues to do with her clients or her round.
The whole team think this is a well deserved award and you are a fabulous carer!
Well done Alice!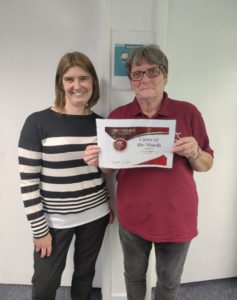 Congratulations Christine
Christine is Godalming's Carer of the month for May as she has worked incredibly hard with our clients. Christine always goes above and beyond the call of duty and makes an extra effort to get to know her clients by shadowing other staff.
She is extremely conscientiousness and a true team player, picking up extra work to support the team and ensures consistent delivery of care at weekends. Christine has been incredibly helpful, reliable and is devoted to delivering quality care. We can't thank you enough.
Thank you Christine!
Congratulations Lorraine
Lorraine has won Canvey's carer of the month as she is a very hard-working care assistant and is always very dedicated to her role. She works above and beyond what is expected of her and always works to the best of her abilities. Lorraine encourages independence and is always very respectful of our clients.
Lorraine works very well within the team and is always happy to support where possible and delivers exceptional care and always has a positive attitude whilst working. Well done Lorraine!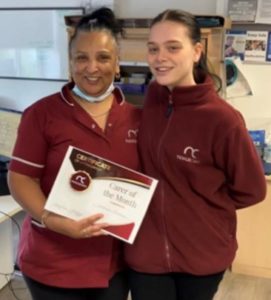 Congratulations Tina
Tina was nominated and won Watford's carer of the month as she always goes above and beyond the call of duty. She is constantly helping out with extra calls. We could not be without her!
Thank you Tina and we hope you enjoy your gift card!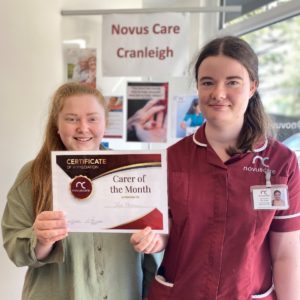 Congratulations Zoe
We are delighted to announce Zoe has won Cranleigh's carer of the month as she is very dedicated to her role as a care worker. Zoe has worked really hard to complete her QCF and we are all so very proud of her. Zoe is great at reporting, recording and she communicates with the office incredibly well.
Well done Zoe!
Congratulations Georgina
Georgiana received our live-in carer of the month for May because since she started Novus she has been very observant, helpful, thorough with her visit notes and never has to be chased to correctly use the app. Georgiana's communication with the office is very good and she gets a lot of compliments from her client, client's family and her client's social worker.
Georgiana is an asset to the live in carer team and works very hard in her role. Georgiana is very consistent with her client and they are pleased she will be returning after her well-deserved break.
We appreciate all of Georgiana's hard work and commitment. Georgiana was over the moon and felt honoured to be carer of the month and was very grateful. Well done Georgina!