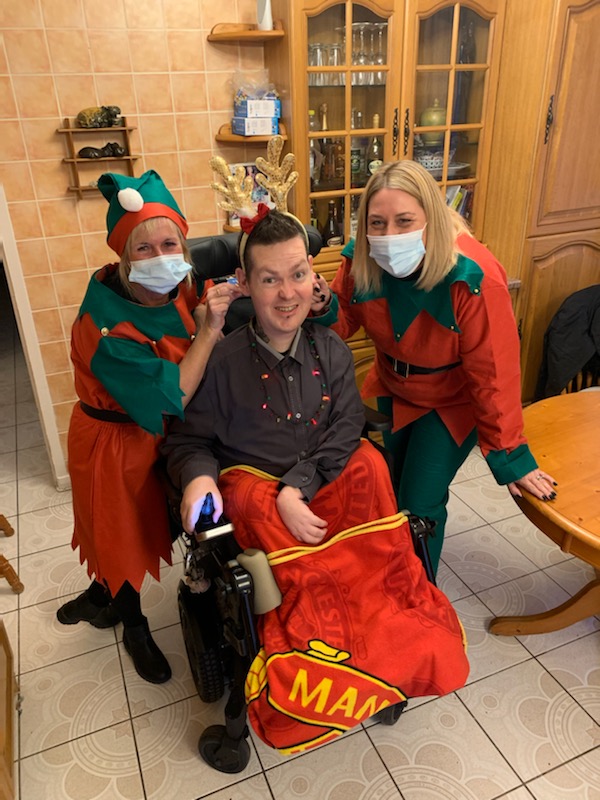 One of our service users, Luis, has just had a visit from a couple of naughty Canvey Elves, Louise & Maria, who certainly helped get him into the festive mood ready for Christmas; his spirits were further raised when his beloved Manchester United beat Arsenal by 3 goals to 2 in last night's Premier League match at Old Trafford, Manchester.
An over-the-moon Luis told us "Carers become an integral part of our lives and they allow us to be more independent and less reliant on our families, when they think out-of-the-box and do themes as they have done in the photo you see before you, it really takes this to the next level! It shows that they are people just like we are and they really care about making a difference".
Maria and Louise absolutely love their job and always look forward to visiting Luis saying "We wanted to take part in elf day and loved coming in to seeing Luis's face when he saw us dressed up as elves; he loved it and it cheered him up this morning. We always have good banter with Luis".
"Novus Care truly values the great job that is done by its carers recognising that they make a real difference to the lives of people such as Luis" comments Operations Manager, Louise Barrow "Louise and Maria are just two of the fantastic carer-heroes who will always go that extra mile to ensure they deliver the very best care to our service users putting a smile on so many people's faces along the way. It makes me so proud. Happy Christmas Luis".
Schedule a free assessment
Get in touch to speak with our care team about your ideal care plan.