Elderly home care is, as expressed by many people to be the preferred option to moving into residential care. Visiting home care and live-in care services aim to support independent living within a familiar community until it is impossible to do so avoiding all the trauma associated with an upheaval to unfamiliar surroundings. Care can be delivered as required or continuously by way of live-in care.
Live-in elderly home care
Twenty-four hour home care offers support and security while reassuring family members that a carer is always on hand to provide help as and when required. Live-in home care means: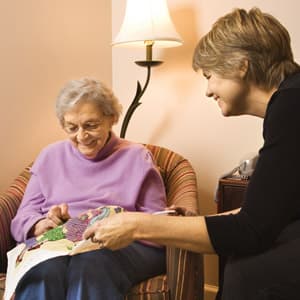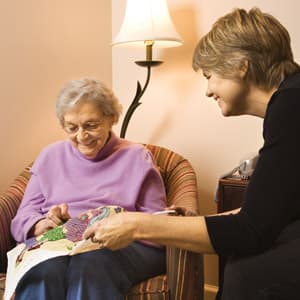 pets can continue being part of your life
friends and family can visit
you can continue attending all social engagements/activities
keep up with hobbies without disruption
maintain independence
benefit from keeping your own routine
continue to enjoy all the space, familiarity, memories and comforts of your own home
stability
Live-in care is when a care worker lives in your home and offers support day and night. This one-to-one care gives a person respectful companionship and reassuring assistance with everyday tasks. Live-in care also supports those with more advanced needs.
Live-in care services are tailored to the needs of each individual
Personal care services – each live-in care plan is tailored to the needs of the individual including personal care such as washing and dressing
Dementia/Alzheimer's – routine for suffers of mental illness can be of the utmost importance. Being able to receive care in familiar surroundings with established routines can provide crucial stability and often has a significant impact on quality of life
Flexibility – a care plan can be changed as frequently as needed
Empowers elderly adults with a choice about how they want to be cared for
Home care in Watford?
Novus Care have a dedicated live-in care team ready to discuss your care support requirements to provide you with a service that is tailored to your needs. From general housekeeping, meal preparation and companionship through to personal care and support for more complex needs,
We strive to uphold all the values expected from a professional home care provider and continually provide the highest level of support for service users and their families by ensuring they understand and are happy with the care plan being determined. We are also members of the UK Homecare Association and members of Hertfordshire Care Providers Association.
Choosing to have care delivered in your own home can be a daunting task and that's why we are here to guide you through the process, every step of the way. 
Call us on 01923 252 401
We tailor each of our home care packages to the needs of the individual and are able to provide care 24 hours a day, 7 days a week.